25th Fishing & Marine Expo by East Bay Anglers
Benefiting; SAVE THE BAY, Barrington High School, Kid's Fishing, and the Penikese Island School
Sunday afternoon 'Äď 12:00 PM to 5:00 PM, January 10, 2010
Barrington High School - Barrington, R.I.
Tickets must be purchased in advance by mail or online -- $15.00 each
Expo 2010 - Mike Laptew & 'ÄėCrazy'Äô Alberto Knie return with great seminars to help you target trophy size fish!
Mike's new show: Inside Striper Islands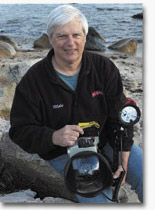 Mike'Äôs new show is a backstage pass into the making of his latest DVD 'ÄúStriper Islands.'ÄĚ Laptew will reveal some of the best areas to fish on Block Island, Newport Cuttyhunk, Jamestown, Prudence Island, and Sakonnet Point.
Mike's high definition, underwater footage will examine why these areas are so productive.

You'll learn how to read the water, when to fish certain areas, and how to make the best out of your valuable fishing time.

You'll not only see monster stripers, but you'll also peer into the hidden world of tautog, scup, black sea bass, and false albacore.

The close up footage of false albacore feeding will forever change the way you fish for Little Tunny.
Alberto 'ÄúTakes it to the next level'ÄĚ -- how -- where -- what!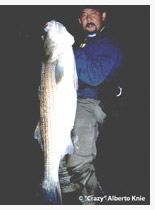 Everything and anything you've always wanted to know about what it takes to track those elusive bass. We will discuss the fi ner points of techniques,knots, patterns, new products, location and much, much more! More importantly, it will be a very open format
(Q&A) so everyone can ask any questions. It will be fun and very entertaining! We will resume the good time we had last year!
Special 25th Anniversary Show prize!
A day-long charter with Capt. Jimmy White will be awarded to a lucky ticket buyer! Nothing extra to buy -- winner can be absent. The drawing will be based on the admission tickets registered to every buyer.
About the Show:

Free Parking
Door Prizes
Huge Raffle
Fisherman'Äôs Flea Market 'Äď Deeply Discounted Fishing Tackle
Angling Art and Photography for Sale
Celebrating Salt Water Angling in the North East

The doors open at 12:00 PM and the show will start at 2:00 PM.
More Details as they come in